Aguja Desmochada, Aguja de la Silla and Cerro Fitz Roy
The Wave Effect link-up

1900m (300 new) 7b+ 40º
Whit Magro, Nate Opp and Josh Wharton (USA), 2/2011.
Description. The Wave Effect is a link up of Aguja Desmochada, Aguja de la Silla and Cerro Fitz Roy. Desmochada was done via the Brass Parrot link-up, a 7b+ free-combo of El Cóndor, Golden Eagle and The Sound and the Fury (climb Golden Eagle to the first ledge -6 pitches-, to join El Cóndor for five pitches, then traverse to Golden Eagle and follow it for four pitches to then climb The Sound and the Fury to the top -8 pitches-), followed by a new route on la Silla which the first ascensionists christened The Vertical Current (6b, 6 new pitches to join the Filo Este) connecting to the Californiana route on Fitz Roy. This link up is likely one of the very best rock climbs in the entire massif. The technical crux is along El Cóndor and involves a V6 boulder problem section.
History. The first ascent was done alpine style and as a "team free" ascent (leader climbs free with seconds jumaring or following) over four days. The first day involved the approach to Desmochada and climbing via Golden Eagle to the obvious ledge 1/3 of the way up, followed by a day for the upper 2/3s of Desmochada, one for La Silla and last, on day four, a 5 hour ascent of Californiana.
The first ascensionist dedicate the climb to Bean Bowers, a long time "patagonico" who soloed the hardest pitches of his life during a six months battle with cancer ultimately taking the fall, leaving many friends broken hearted. The idea of this link up was his.
The Wave Effect Direct - all free - in 17:07hs. In early 2016 Colin Haley and Alex Honnold climbed Desmochada via the Golden Eagle - Sound and the Fury link-up, then tackled Aguja de la Silla via El Bastardo, and Cerro Fitz Roy via the Californiana, all in a mere 17:07hs from the base of Desmochada to top of Fitz, 25:17hs roundtrip from the base of Desmochada. This link-up is technically easier than The Wave Effect, but it is far more sustained because it tackles Silla's south face straight on, rather than skirting around it. Colin and Alex climbed free, both leader and follower sending all pitches (no aid, no jugs), in the process doing the first free ascent of El Bastardo. They simul climbed everything: Desmochada in three pitches, Silla in two, Fitz Roy in three. Alex lead all the harder climbing with the heavier pack. Colin describes it as "the most bad ass block of rock climbing I have ever witnessed". This link up clocks at 1900m 6b+.
A more challening and esthetic link up of these three towers would involved climbing the Brass Parrot, to El Bastardo to The Colorado Route, avoiding the "ledge shuffling" of the Californiana.
Approach. See Golden Eagle.
Descent. Via the Francesa.
Photos (click to enlarge)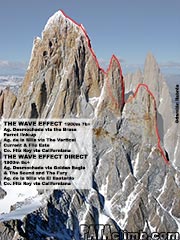 Aguja Desmochada, Aguja de la Silla

and Cerro Fitz Roy from the west