Aguja de l'S (ca. 2330 m).


Toponym
Although not certain, likely the name was give by the first ascensionists, Frenchman Bernard Amy and partners. Lliboutry in his 1952 maps left it with no name.

Climbing history
There were no attempts in this tower before it's first ascent. You will find all the historic details under each of the climbs. See link on the right menu in this page.
Photos (click to enlarge)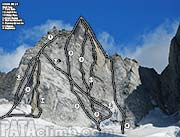 Aguja de l'S - east face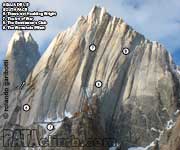 Aguja de l'S - south face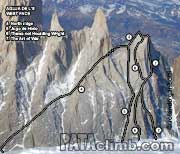 Aguja de l'S - weat face