Cerro Pollone (ca. 2600m) & nearby

peaks

General description.
The Pollone group is a horseshoe shaped chain with many summits. Cerro Pollone sits at the center. Loma Blanca, Grand Gendarme del Pollone and Aguja Tito Carrasco on the north ridge, the Cumbre Este, Aguja Stefan and Aguja Pollone on the east ridge. A number of minor summits in the ridge between Tito Carrasco and Gran Gendarme are still unclimbed.
Alberto Maria de Agostini named this peak during an expedition in the summer of 1935. De Agostini was a member of the Societá Salesiana Don Bosco. The peak is named after a small town in Piemonte, near Biella, where de Agostini was born in 1883.
Aguja Tito Carrasco is a small but obvious tower in the ridge between Pollone's main summit and the Gran Gendarme. It was named by its first acensionists Jim Donini and Gregory Crouch after Bolivian climber Tito Carrasco who died after being hit by rockfall while climbing in El Potrero Chico, Mexico. He was a close friend of Donini's wife, Angela.
Aguja Stefan, located between Pollone's Cumbre Este and Aguja Pollone was named by the first ascensionist Stefan Gatt apparently after himself.
Climbing history.
Argentines Rodolfo Dangl, Roberto Matzi, Agustine "Guzzi" Lantschner and Hans Zechner did the first ascent in 1949. They had originally intended to attempt Fitz Roy which Zechner had attempted the previous year with Mario Bertone and Nestor Gianolini, but the first impression of the three new team members clearly marked the expedition, "...fantastic, but much more difficult than we had imagined...". They made two attempts on Fitz Roy from the Torre valley, climbing both times to the top of the Filo del Hombre Sentado. On the third they traversed west to climb Pollone, getting a good glimpse of what would later become the Supercanaleta. The French writer Saint Loup, a pseudonym apparently used to cover a not so honorable past during World War 2, wrote of Zechner, "...il est venu par amour, et revenu avec persévérance, persuadé que cette escalade justifiait les plus grandes sacrifices". Like many of the pioneers of early Argentine mountaineering, Lantschner and Zechner were of European origin, having learned the art of climbing in the Alps.
Cerro Pollone's Pilar Oeste Chico, located between Cerro Pollone's Pilar Oeste and Cerro Piergiorgio's NW face was attempted by Germans Benno Wagner and Paul Sass. They climbed five pitches with difficulties to 7a. This 350m pillar is still unclimbed. The climbing in this attempt is reported to be very serious, involving hard sections of mandatory free climbing with very distance protection. Beware. It is undoubtely a line worth finishing.
American Neil Kauffman and Jim Toman made the first ascent of the Cumbre Este in January of 2011.
Photos (click to enlarge)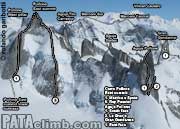 Cerro Pollone - Southeast face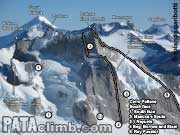 Cerro Pollone - South face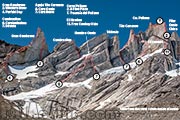 West view