Fitz Roy - North face


13. Clínica de Aventura


350m + 400m 30˚ 6c
Jorge Ackermann, Luciano Fiorenza and Matias Villavicencio (Argentina), 3/2010, to the NW ridge, 350m below the top.
Description. This route climbs a line to the far left of Tehuelche, just right of the Francesa Cara Norte with which it shares six pitches before reaching the Grand Hotel (15 pitches to there). From the Grand Hotel walk down snowy ramps crossing Tehuelche, El Flaco and the Hoser Chimney to a crack system to the right of the Hoser. This crack system involves a fair bit of off-width climbing leading to a roof and a long traverse to the right followed by a chimney that can be avoided by climbing the face to the side. Once at the NW ridge traverse the ridge eastwards to join the Hoser Chimney route (13 more pitches for this upper section), some 350 meters below the summit. The two variations that this line climbs involve a total of 22 new pitches combining various other routes.
History. The route was climbed over three days, one day to the Grand Hotel, a rest day there due to bad weather and a third day to reach the NW ridge from where, upon joining the Hoser Chimney 350 meters below the summit, the first ascentionists retreated, rappeling down the Hoser to the Grand Hotel. It still awaits a integral ascent to the summit.
Approach. Paso Cuadrado and Glaciar Fitz Roy Norte.
Descent. If you go to the top the best option is to descend via the Franco-Argentina however, if you leave gear at the Grand Hotel or at the base of the wall on the north side descend via the upper portion of the Filo Noroeste (Afanassieff), then along the Francesa Cara Norte to the Grand Hotel and from there via Tehuelche back to the ground.
Photos (click to enlarge)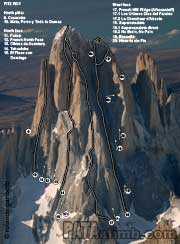 Fitz Roy north and west face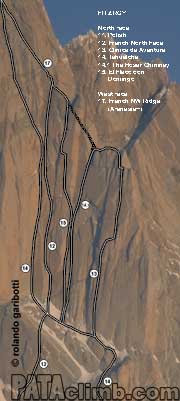 Fitz Roy north face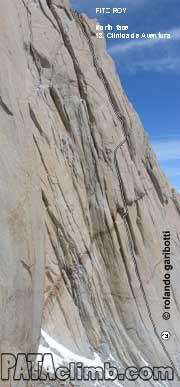 Fitz Roy north face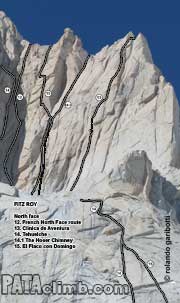 Fitz Roy north face