Aguja Val Biois (ca. 2650m).


Description

Named after a valley in the Dolomites (Belluno province) where one of the first ascentionists, Bruno De Doná lives. Except for the striking couloir in the east face, there is little that deserve attention in this peak.

Climbing history

In 1978, not long after the first ascent, Argentines Alberto and Eduardo Tarditti, and Alejandro Randis climbed to a small shoulder sixpitches (5 A1) above the col of the Bloque Empotrado, christening it Punta Lorena.


Photos (click to enlarge)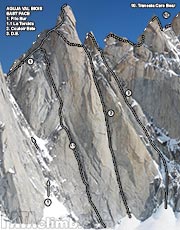 Aguja Val Biois - east face