Aguja Guillaumet (ca. 2580m).


This small tower is a good objective for those visiting the Chalten massif for the first time and feeling a bit intimidated by the area. However, not every route on it is by any means moderate. The golden rock of the north buttress is certainly worth touching, as are the steep ice sheets of the Beger-Jennings. The routes on the west face offer a good alternative for short good weather periods or weather periods that are too warm to dare tackle bigger objectives that might involve too much objective danger.
The members of the French 1952 Fitz Roy expedition named Aguja Guillaumet. During that trip the cartographer of the expedition, the respected glaciologist Louis Lliboutry, made the first complete and accurate mapping of the area. The name remembers Henri Guillaumet (1902-1940), who along with Antoine de Saint-Exupéry, Jean Mermoz and other pilots of the French Aéropostale cruised the world establishing the first postal air routes. By the time he died, when his plane was shot down while flying between Marseille and Tunisia, he had accomplished 92 crossing of the southern Atlantic and 393 crossings of the Andes while flying his small postal plane.



Photos (click to enlarge)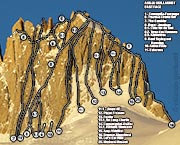 Aguja Guillaumet east face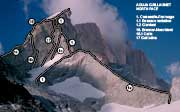 Aguja Guillaumet north face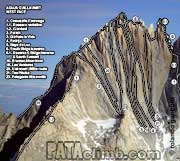 Aguja Guillaumet west face