Cerro Marconi Central (ca. 2380m).

General description.
The group of mountains that close the Electrico valley are called Marconi range and were christened by Alberto Maria De Agostini in honor of the Guglielmo Marconi (1874-1937), an Italian electrical engineer who was partly responsible for the development of wireless telegraphy and was also the President of the "Regia Accademia d'Italia", which partly supported De Agostini's expedition. The river that flows down valley from those peaks that are named after an electrical engineer was fittingly named Rio Electrico.
The first to view these peaks were the members of the 1916 Buenos Aires Sociedad Cientifica Alemana expedition, led by Alfredo Kolliker, who during the first ever traverse across the Hielo Continental were able to see the western flank of what later became Cordón Marconi. More practical and less eager to celebrate European heroes and sponsors than De Agostini, they named the mountain after its likeliness, calling it Cerro El Cajon (box peak) after the square shape that Marconi Central has when viewed from the west.
The Marconis suffer the same fate that most non-granite peaks succumb to in this area, which is that they receive little to no attention. There have been a number of ascents of Marconi Norte, but Marconi Central remains unclimbed and Marconi Sur has but one ascent. This happens in the Paine massif as well, where beautiful Paine Grande has only had two ascents in 50 years, while well trodden routes on the North Tower get a handful of repeats per year.
Climbing history.
In January of 1966 Argentines Edgard Köpcke, Avedis Naccachian and Enrique Triep climbed the west face to somewhere in the vicinity of the summit mushroom from where they retreated, without standing on the actual summit. They were part of an eight-man expedition. Naccachian had made an attempt one year earlier with a team lead by Carlos Rey.
Kopcke and crew approach via Paso Marconi and from the west climbed easy snow slopes leading to the ridge just north an obvious big black headwall (the "box" that Kolliker et al had named the peak after). The headwall is 300 meters tall and involved moderate rock climbing (to 5), leading to a delicate traverse under the summit mushrooms one of which was overhanging and forced the team to retreat. In all they climbed 700 meters (to 60º and 5) making 15 rappels to descend.
Marconi Central remains unclimbed.
Bibliography.
Anuario CAB 1967 p. 48-49 p. 120; AAJ 1967 p. 402-403.
Photos (click to enlarge)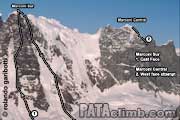 Cerro Marconi Sur and Central - east

face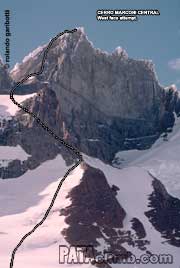 Cerro Marconi Central - west face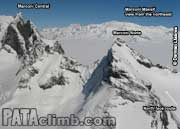 Cerro Marconi Norte and Central -

northeast face