El Mocho. 1953 m.
El Mochito

Description
Cerro Torre's Sancho Panza, thick and wide as Don Quixote's squire. The steep and smooth south face is reminiscent of Half Dome. Its easy approach, its low elevation, its incredibly featured good rock and its protected walls provide some of the best free climbing terrain in the whole range. In the past few years it has become a very popular destination. Back in 1952, in an early visit to the range, Argentine Folco Doro Altan christened it Mesa de los Gigantes (table of giants), a fairy tale name that unfortunately got written over by later arrivals. Mocho in Argentine slang means without a top, an accurate description of its appearance.
Climbing history.
Jim Bridwell and Robert Staszewski did the first ascent in 1978 via the east buttress.
El Mochito is the smaller wall located right above the Niponino camp. It has a number of routes on it, some dating back to the 80s.
- In 1989 Carlos Domínguez and Mauricio Fernández (AR) climbed a line in the right side, seven pitches, the first 6b, then motsly 5, with one 6a pitch half way up, a dihedral. They rapped the route.
Bajamos por la misma ruta.
- Luca Campagna (IT) soloed a line in 2000, six pitches to 5.
- Jorge Ackermann and Lucas Jacobson (AR) climbed another line in 2007.
- In 2009 Jeremy Collins, Renan Ozturk and Cedar Wright's (US) climbed "No bad weather" (250m 6c+). Regarding the name, Cedar wrote: "[we] dedicated it to Roberta Nunes who in her life embodied this positive outlook regardless of what came her way."

Photos (click to enlarge)
El Mocho - east face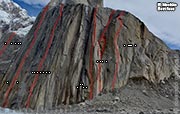 El Mochito - east face