Cerro Adela Central (ca. 2940m) y
Norte.

The Swiss-Argentine leader of the Sociedad Cientifíca Alemana 1915-1916 expedition, Alfredo Kölliker named the peak after his mother. There are three very distinct summits to it, the center one being slightly higher than the others.
The Sociedad Cientifíca Alemana expedition, originally conceived and supported by the tireless explorer Federico Reichert, was the first to explore and survey this area closely, visiting the southern and western flanks of the Chaltén massif and accomplishing the first ascent of Cerro Huemul. Their exploration of the Icecap was very significant as they were the first to reach the "divortium glaciarum" just north of Córdon Mariano Moreno (christen also by this expedition) after crossing over Paso del Viento. Pablo Silbermann, Adam Diener, Augusto Tannert, Lutz Witte and Kölliker himself completed this traverse. The remaining members of this expedition were: Hans Jorgensen, Dr. Kühn and Tobías Buechele. They had originally intended to ascend Cerro Fitz Roy, but it proved to be slightly more difficult than they had expected.
The only exploration and mapping of the area to that date had been done by the "Perito" Moreno and the members of the "Comisión de Limites", who in the late 1800's and early 1900's had the task of surveying, mapping and delimitating the border between Argentina and Chile. However according to Kölliker their mapping and marking of the area was done from a distance, and they marked only the mountains of major importance.
Climbing History.
In 1958 Italians Walter Bonatti and Carlo Mauri (I) made the first ascent of the Central and South summits as part of a long traverse from Adela Central to Cerro Grande and Punta Luca (see Adelas traverse). Argentines Eduardo Brenner and Silvia Fitzpatrick made the first ascent of the north summit in 1988, as part of a traverse from Adelas Sur to col de la Esperanza. Not long after Eduardo, a charismatic and very well loved climber died in a river rafting accident in Rio Las Vueltas. Amongst other things he had been part of the first ascent of the Argentine variation to the French route of Fitz Roy and was also part of the team that accomplished the first winter ascent of Fitz Roy via the Supercanaleta.
Bibliography.
Patagonia - Resultado de las expediciones realizadas en 1910-16; Colaboradores: Cristóbal Hicken, Alfredo Kölliker, Franz Kühn, Fritz Reichert, Adolfo Tomsen and Lutz Witte; Buenos Aires 1917 - Sociedad Científica Alemana.
Photos (click to enlarge)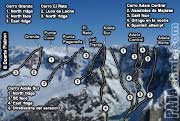 Cerro Adela Sur, Central y Norte

- east face