Fitz Roy - Southwest face


22. Tonta Suerte

600m 6c C1
Nathan Martin and Tim O'Neill (USA), 2002.
Description. Their line climbs the lower portion of the Eslovaca, to reach the top of the prominent dihedral, and where the Eslovaca branches off to the right it continues straight up. It follows a series of very impressive steep dihedrals and off-width cracks to gain the west ridge and eventually join the Supercanaleta for its last seven pitches. In all, the route climbs 17 new pitches. 1400m altogether.
History. Climbing alpine style, and after a couple of unsuccessful attempts, Martin and O'Neill climbed a much sought after line. Their ascent was completed in 57.5 hours round trip, with one semi-bivi (no bivi gear) at the west ridge. They descended the Supercanaleta, which proved to be a serious undertaking, because of very wet conditions. This line had been previously attempted unsuccessfully by many strong teams, including Jack Tackle and Joe Josephson, Mark Synnot and Kevin Thaw and Alan Mullin and Thaw again. The name of the route refers to several episodes where luck played a role before, during and after the climb, a stop to smoke a cigarette saved them from a nasty rock avalanche, Timmy wrote, "As we sat commiserating between exasperated exhales, a tremendous rock avalanche ripped down 100 meters to our left. It destroyed our line of descent and would have minced us and our words if we had not been busy courting cancer. Who says smoking is bad for your health? Has the surgeon general ever been alpine climbing?" During the descent they were the first to come across the body of Chalten resident of Frank Van Herreghewe, a Chalten resident of Belgian and Andorran descent who had disappeared a couple of weeks before while attempting to solo the Californiana.

Approach. Starting at Hombre Sentado: Eléctrico valley to Paso Cuadrado to Glaciar Fitz Roy Norte. Starting at Torre valley via Niponino.
Descent. Francesa.
Photos (click to enlarge)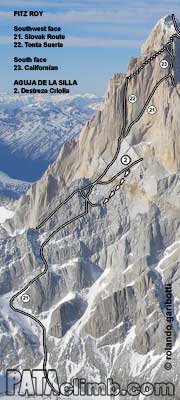 Fitz Roy southwest face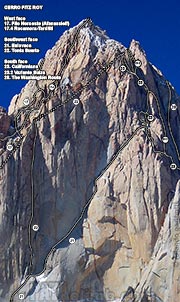 Fitz Roy southwest face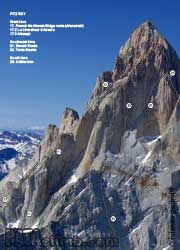 Fitz Roy southwest face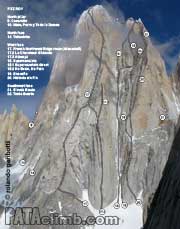 Fitz Roy west face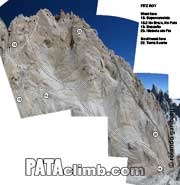 Fitz Roy west face