Cerro Torre (ca. 3100m).

General Introduction
Cerro Torre's existence was first noted by the western world in 1782, when the Spanish explorer Antonio de Viedma saw the Fitz Roy and Cerro Torre groups from a distance. More than one hundred years later it was the Argentine Comisíon de Limites led by Franscisco "Perito" Moreno, which christened this jagged peak "Torre". Its geographic position was fixed, with certain accuracy, by the Sociedad Geografica Alemana 1916 expedition (Kölliker et al).
There are only two independent lines to access its very summit, one via the infamous Compressor route –along the SE ridge-, and the other by the more esthetic, natural, fairer Ragni route in the west face. Although the mountain has been climbed from the north, that line joins the Ragni route for the last three pitches and hence it is not an independent line. More than 95 % of the ascents have been done via the Compressor route, a via ferrata of sorts with more than 300 bolts in place. Why people bother with that route instead of hiring a helicopter to the top is anyone's guess, since both are equally unsporting ways to climb the peak. 2008 was the first year when more parties climbed the Ragni route than the Compressor route. This was a big step forward. Two major variations that follow the "natural" line provide a "fair means" way to climb the SE ridge, but a complete ascent of these all the way to the top is still pending.


Climbing history.
Italians Daniele Chiappa, Mario Conti, Casimiro Ferrari, and Pino Negri did the first ascent in 1974. More details on early climbing history of the peak can be found under the Ragni and El Arca routes.
As of March 2012, the list of non-Compressor route ascents of Cerro Torre, to the very summit, is up to 22 ascents. These includes 18 ascents via the Ragni route, plus Alessandro Beltrami, Ermanno Salvaterra and Rolando Garibotti's November 2005 ascent of El Arca de los Vientos; Colin Haley and Rolando Garibotti's January 2008 Torre Traverse finishing also via El Arca; Hayden Kennedy and Jason Kruk's 2012 ascent of the SE ridge; and David Lama and Peter Ortner's 2012 free ascent of the SE ridge.
Photos (click to enlarge)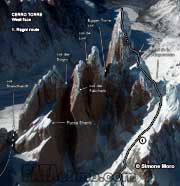 Cerro Torre - west face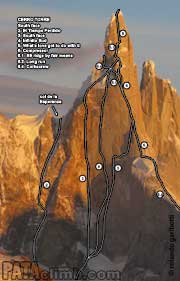 Cerro Torre - south face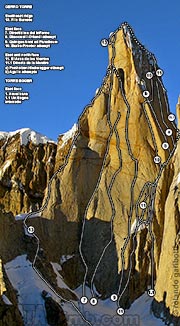 Cerro Torre - east face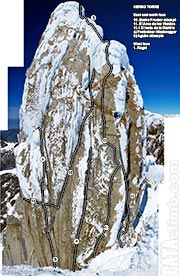 Cerro Torre - north face