Fitz Roy - North face


15. El Flaco con Domingo

450m + 400m 30˚ 6c
Crystal Davis-Robbins and Max Hasson (USA)
Description. This route starts on a horizontal snow bench low on the north face, about 100 meters down and 300 meters right of Tehuelche's leaning spire, just right of Los Últimos Días del Paraíso which it crosses after two or three pitches. It climbs a broad face via a series of discontinuous cracks and slabs. The sixth pitch involves a horizontal traverse leftwards and six or so pitches later it joins Tehuelche, climbing 250 meters along that line to reach the Grand Hotel, the obvious big ledge half way up the face. Above that point the line climbs right of Tehuelche and the Francesa Cara Norte, starting up the upper headwall about 15 meters left of The Hoser Chimney, climbing a right-facing crack system capped by an imposing roof, while the Hoser climbs the left-facing corner immediately to the right. On pitch four above the Grand Hotel, at the roof, the route joins The Hoser briefly before heading left around the corner and onto a small headwall, climbing cracks straight up until they peter out, then moving left onto easier ground. Ten pitches above the Grand Hotel the route joins the Filo Noroeste, which it follows for 3 or 4 pitches and much scrambling to the summit (200 meters). 1650m altogether.
History. The first ascent was climbing alpine style, with the leader leading every pitch free and onsight. Hasson and Davis spent one night at the Grand Hotel, and spent their second night rappelling from the summit via Tehuelche. Hasn't been repeated yet.
Approach. Paso Cuadrado to Glaciar Fitz Roy Norte.
Gear. Late in the summer crampons might not be needed (on the route).
Descent. Along Tehuelche all belays are equipped, with close to 50 pitons and 35 bolts, so once you find the line, the descent should straightforward.
Photos (click to enlarge)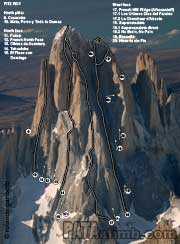 Fitz Roy north and west face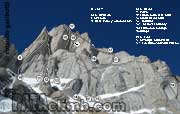 Fitz Roy north and west face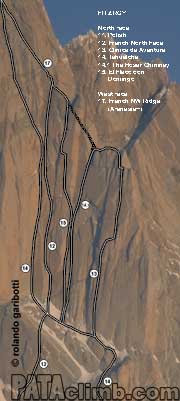 Fitz Roy north face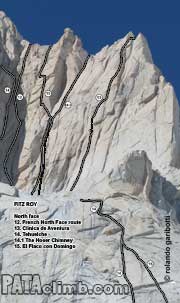 Fitz Roy north face