Fitz Roy - East face


28. Un Mar de Sueños

1200m M4 7a A3
Jorge Ackermann (AR) and Michael Lerjen-Demjen (CH), 11/2012.
Description. This long and elegant line follows steep crack systems and dihedrals up the nose of an obvious prow. It is a fantastic line. Up high Un Mar de Sueños shares six pitches with Casimiro Ferrari and Vittorio Meles' 1976 line. In all it climbs 34 pitches, 28 of them new, including several pendulums (23 new pitches left of the Ferrari-Meles lead to six pitches on the Ferrari-Meles and then five more new pitches up and right from it). Little gear was left in place, eight rappel stations in the lower part, and three stoppers in the upper half. No bolts.
History. Ackermann and Lerjen first attempted the line in January 2012, making another attempt during the austral winter, in August. Every time they started climbing from the very bottom, having fixed no ropes, climbing in perfect alpine style. The ascent took three days, with bivouacks after the first twelve and twenty two pitches, reaching the summit on day three at 5:30PM, descending through the night to reach the base early in the morning of their fourth day.
Approach. Laguna de los Tres to Paso Superior to Glaciar Piedras Blancas Superior.
Photos (click to enlarge)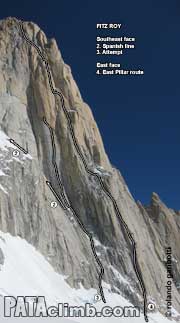 Fitz Roy southeast face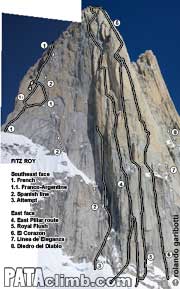 Fitz Roy southeast face