Fitz Roy - South face


28. The Colorado Route

500m 45˚ 6c+
Max Barlerin - Quinn Brett - Michael Lukens (US), 01/2016.
Description: "The line" in the south face of Fitz Roy. Immaculate! It climbs a splitter-as-can-be crack system to the right of The Washington Route. In the central section, four pitches follow a lone crack that splits a massive blank headwall. In all it climbs 13 pitches, 10 quite vertical, the following three wandering up blocky terrain to join the summit slopes. The pitches go as follows: 35m 6b ow; 60m 6b hands; 60m 6b face; 50m 6c thin to fists; 50m 6c; 50m 6b wide hands; 40m 6c slot & hands; 35m 6b; 50m 6c+ thin hands-ring locks; 40m 6a; 150m to 6b. A great route that, because of its quality, deserves to become a classic.
History. They freed the route which goes at 6c+ (5.11c). They bivied at the Brecha and then climbed the route in a day, summiting in the late evening to bivy at the summit.
Approach. Paso Superior to Brecha de los Italianos to La Silla (300m 75˚ -to 90˚- 3), then part way across to La Brecha de los Americanos.
Gear. One ea. to 0.4, doubles from 0.5 to 4, triples on 2 and 3 (triple #4 would not go unused), one # 5.
Descent. Francesa.
Photos (click to enlarge)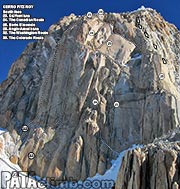 Fitz Roy south face