Cerro Solo (ca. 2100m).
1. Cara Este / Matzi - Sabatté
2. Las Lagrimas del Solo
3. Falcone/San Vicente

Cerro Solo is another victim of the Sociedad Cientifica Alemana 1916 expedition's naming spree.
Looking for vantage points to explore and map the area the members of the expedition traversed the glacier at the base of Solo's south face, known as Ventisquero Solo, to approach the upper portion of the Túnel glacier and reach the col that separates Cerro Solo from Cerro Grande, which they christened Paso Túnel.
1. Cara Este
50º 4
Roberto Matzi and Enrique Sabatté (Argentina), 13/2/1949.
Description. From De Agostini cross the tyrolean and follow the trail that contours Laguna Torre until you reach an obvious ravine. Head up this ravine to eventually climb up and right, over easy rocky terrain to reach the glacier. Contour the glacier via its right side to reach the obvious rock band below the summit. From there either traverse left and go up the last steep section of the glacier (50º) crossing a few crevasses in the way or continue up and right and climb easy rock to the summit.
History. Matzi and Sabatté's was the first ascent of the peak. The first ski descent of this peak was done by Max O'Dell (USA) in October 1997.
In 2004 American Cedar Wright climbed the ridge to the right of the glacier, ascending nine small summits to reach the main summit, finding very bad rock and difficulties to 5.
Photos (click to enlarge)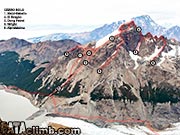 Cerro Solo - from the north
2. Las Lagrimas del Solo
120m WI 5+
Bruce Miller (USA) and Bruno Sourzac (France), January 2000.
Description. Hike the Matzi-Sabatté route to the rock band and climb the waterfall that in rare occasions forms there. Miller and Sourzac climbed the left most of two waterfalls that were formed at the time.
Approach. Matzi-Sabatté route.
Descend. Matzi-Sabatté route.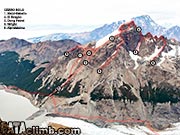 Cerro Solo - from the north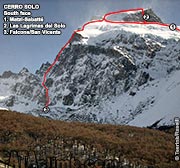 Cerro Solo - south and east face
Cerro Solo - South/southeast face
3. Falcone/San Vicente
Adrian Falcone (AR) and Iñaki San Vicente (ES), 1989.
Description. Climbs 500 meters of vertical gain with difficulties to M3 and 50˚. The rock is of decent quality except for the last section.
History. Falcone and San Vicente's ascent was un-reported hence why we originally credited the first ascent to Juan Manuel Raselli and Ignacio Teerink who climbed it in 2012 christening it Insomnio.
Descent. Via the Cara Este route.