Fitz Roy - East face


5. Royal Flush

950m 7b A0 M (also 6c A1)
NR: Kurt Albert, Bernd Arnold, Jörg Gerschel and Lutz Richter (Germany), 6/2/1995, to El Corazón; Gunter Gäbel, Michael Schafroth and Rainer Treppte (Germany), 11/2/1998, to the summit.
Description. An impressive line in the center of the east face. In general the rock is of exceptional quality, with the exception of pitches 12 and 13 that are "less so". The route sports overly "generous" bolting and most of the bolts were placed next to perfect cracks, where natural protection is readily available. Unfortunately one portion of the route is often wet: running waterfall. For 28 pitches it climbs a continuously steep crack system left of El Corazón, which it joins two pitches above the heart-shaped rock scar, ten pitches below the summit (1250m altogether). Most of the route has been climbed free, but a redpoint ascent would likely be difficult since the hardest pitch is often wet. The crux pitch could probably be climbed free at 7c. With the exception of the ledge at pitch 14, appropriate bivouac sites are sparse.
History. The first ascent party used many fixed ropes, a powerdrill and over 120 bolts to complete the ascent. They placed bolt belays as well as many bolts next to perfect cracks with the intent of encouraging repeats. The route was named Royal Flush after the best possible play in poker, as the first ascensionists considered that climbing in Patagonia "is a bit like gambling, and as in a poker game one needs a lot of luck and has to take some risks and invest big efforts to succeed." This might be a good description of most alpine climbing in Patagonia, but seems far from describing the experience of the first ascensionists who, with their powerdrill, many bolts and fixed lines seem to have been doing everything within their reach to reduce the risk of failure. They were forced to retreat upon joining El Corazón, when Arnold was injured by falling rock. Free ascent: Albert managed to climb the route almost free, with the exception of a short mixed section which was aided and the crux pitch which was toproped but not redpointed. Integral ascent: the first integral ascent was done by Gäbel, Schafroth and Treppte who fixed 450 meters of rope and took three days round trip on their final push. Alpine style ascent: the first alpine style ascent was done by Americans Jimmy Haden and Mike Pennings in 2008, taking a mere 48 hours round trip from Paso Superior, descending via the Franco-Argentina.
Approach. Laguna de los Tres to Paso Superior to Glaciar Piedras Blancas Superior.
Descent. Rappel the route.
Photos (click to enlarge)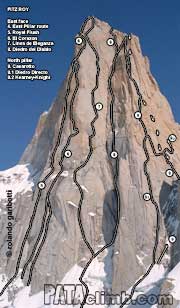 Fitz Roy southeast face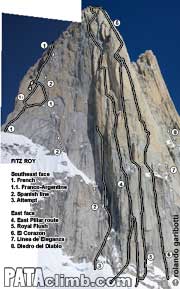 Fitz Roy southeast face