Fitz Roy -West face


19. Ensueño

1300m 45˚ 6b+
Mauro Girardi, Lorenzo Nadali and Andrea Sarchi (Italy), 22-26/1/1995.
Description. A very long and varied rock route, that climbs discontinuous cracks and slabs following a subtle break between the west-southwest pillar and the Supercanaleta, which it joins for the last seven pitches (1600m altogether). There are two very distinct steep sections in this route, the first involves exposed face climbing connecting dubious flakes and dihedrals on flaky/sandy rock and the second climbs esthetic straight-in cracks on perfect granite, just right of a prominent tower. The climbing is interesting throughout, with long easy sections linking the steeper features. All belays are equipped, therefore it is possible to rappel the route. The 5th and 18th belay offer adequate bivouac sites. The climb starts 70 meters above the Supercanaleta's bergschrund.
History. After fixing ropes on the lower 250 meters, Girardi, Nadali and Sarchi climbed alpine style, completing the ascent in five days. They first bivied ("bivi Primi Passi") at the top of pitch five, from where they equipped the crux portion of the route, involving a series of semi-blind dihedrals that require some pitons for protection in between mandatory free climbing. In this section they used a fixed rope left in place during Sarchi's prior attempt of the route with Pietro Dal Prà in 1993 (they were forced to retreat after 400 meters). From there they pushed on to the top of the 18th pitch, where they found a small ledge that Mauro systematized for their "Mezzocorona bivi". The following day due to unstable weather and tiredness they were forced to rest, climbing all the way to the summit on the next day. The upper part of the route joins Supercanaleta for its last 7 pitches. They were forced to bivi during the descent in a small sloping ledge (bivi "Stelle Cadenti"). In early 1999 a party freed the short aid section, and took just ten hours to reach the junction with the Supercanaleta. Later, in 2006 the route was repeated alpine style and in its entirety in two days by Slovenes Rok Blagus, Tomaz Jakofcic and Miha Valic. In 2011 it was repeated climbing free and without jumars in two days round trip from town, hiking from town and reaching a good bivy ledge on pitch 18 on day one and climbing to the top and descending on day two.
Approach. Paso Cuadrado to Glaciar Fitz Roy Norte.
Descent. The preferred descent route is the Francesa. In case Supercanaleta has to be descended, the rappel line starts from the notch between the last gendarme on the west-southwest ridge and the summit slope.
Bibliography.
Alp 126 p. 24-28; AAJ 1995 p.211; AAJ 1996 p. 11-18; CAI-Rivista Mensile 1995/6 p.60-61.
Photos (click to enlarge)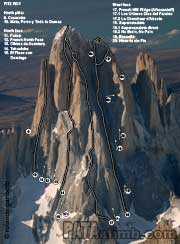 Fitz Roy north and west face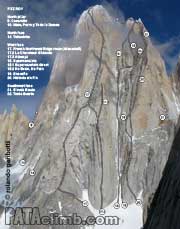 Fitz Roy west face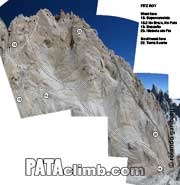 Fitz Roy west face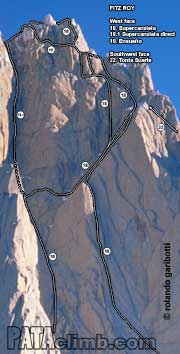 Fitz Roy west face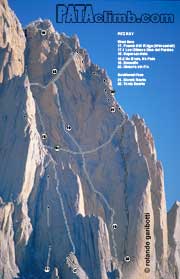 Fitz Roy west face