Punta Herron (ca. 2750m).


General description.

Punta Herron is a secondary summit of Torre Egger, located just north of the main summit. It was named after New Zealander Philip Herron, who died during an expedition to climb Torre Egger in 1976. He was part of a Kiwi expedition of which he was the youngest member and one of the best technical climbers. He fell unroped into a narrow crevasse and became tightly wedged. His partner's efforts to free him were fruitless, so he was forced to walk for help all the way to basecamp, but by the time help arrived, the next morning, it was too late (9/1/1976).
There are some phenomenal climbs to be repeated and completed in its west face.
Climbing history.

Italians Bruno De Donà and Giuliano Giongo claim to have done the first ascent while descending from Torre Egger in an epic storm. There are serious doubts over their Torre Egger ascent. See Italian route on Egger or De Dona-Giongo route on Herron for more details. Italians Adriano Cavallaro, Ermanno Salvaterra and Ferruccio Vidi did the first confirmed ascent in 1991. Colin Haley did the first solo ascent of the peak via Spigolo dei Bimbi in 2016.
Bibliography.

Philip: AAJ 1977 p. 231; NZ AJ 1977 p. 62-65.
Photos (click to enlarge)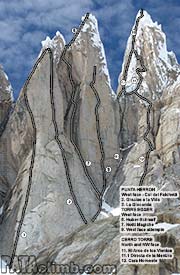 Punta Herron, Torre Egger and Cerro

Torre west face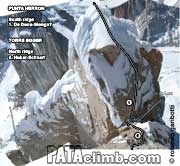 Punta Herron south face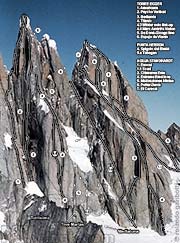 Torre Egger, Punta Herron and Aguja

Standhardt southeast face