Fitz Roy - Southeast face


2. Línea Hermanos Gallego

Miguel Angel and José Luis García Gallego (Spain), 20/03/1984.
Description. This line, which climbs the left side of the southeast face still awaits a continuous ascent. The line involves several pendulums and much aid climbing –up to A4-, as well as mixed terrain in the lower third, which is exposed to falling debris. The exact line followed by the Gallego brothers is unclear.
History. After a failed attempt in early 1982 with M. Del Castillo and M. Gómez (Spain), the first ascensionists returned in 1984, and made many attempts over a three month period, until they finally completed the line in three separate sections. The first 400 meters were climbed during the 1982 attempt, and were not re-climbed in 1984. After climbing the middle third and retreating, the upper third was accessed by regaining the previous high point via fixed ropes along the Francesa and Argentine variations. The Gallegos made four bivouacs on the wall during the final push (Desnivel 14 p. 22-27).
Approach. Laguna de los Tres to Paso Superior to Glaciar Piedras Blancas Superior.
Bibliography.
Mountain 103 p. 20-23; AAJ 1985 p.42-48; Desnivel 13 p.6; Desnivel 14 p.22-27.
Photos (click to enlarge)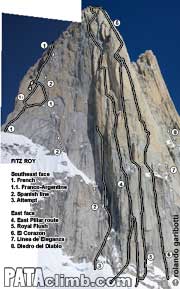 Fitz Roy east face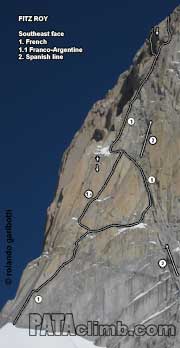 Fitz Roy southeast face