Aguja Volonqui (ca. 2200m) and

Colmillos: Sur, Central and Norte.


Description.

The ridge north of Cerro Rincon has four distinct granite summits, the three Colmillos, Sur, Central and Norte and the northern most and higher summit called Aguja Volonqui, located before the ridge looses elevation to reach a saddle linking with the Marconi group.
The late Hector Vieytes, a renowned Argentine climber and sleeping bag and down jacket manufacturer was a good friend of the first ascentionists and is responsible for the naming of Volonqui. For almost two decades until his death in 1994, Vieytes was the host of many international expeditions when they passed through Buenos Aires heading to Patagonia. In 1977, Rab Carrington spent several months in Buenos Aires working with Vieytes. When he returned to the UK he used his newly acquired skills to start the company Rab, a very successful clothing and gear company still today.
The three Colmillos, located between Volonqui and Rincón are still unclimbed. If only climbers were not so focused on repeating yet again an over-climbed classic!

Climbing history.
Englishmen Alan Rouse and Rab Carrington climbed to within two meters of Aguja Volonqui's summit in December of 1976. They climbed the east face and south ridge.
From the Marconi glacier they negotiated a heavily crevassed glacier to reach a wide couloir to the left of the peak's east buttress. This led to a col overlooking the Ice cap and to the south ridge, which they followed to the summit. The climbing from the col to the top involved nine or ten pitches of ice and mixed climbing, leading to a final two-meter tall mushroom, which the first ascensionists deemed too unstable to climb. They needed 20 rappels to descend.
Bibliography.
AAJ 1978 p. 581-583; Mountain magazine 58 p. 18-21; Climbing magazine 47 p. 5-11.
Photos (click to enlarge)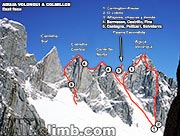 Aguja Volonqui and Colmillos - east

face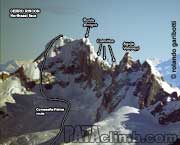 Cerro Rincón, Colmillos and Aguja

Volonqui - northeast face