Aguja Rafael Juárez, ca. 2450m.


Description
This is a small tower by Patagonian standards, one that is often underestimated and is the site for many unplanned bivouacs. The most aesthetic routes are on it's NW prow, Corallo, Blood on the Tracks and Como no! certainly deserve to become classics.
This tower was renamed "Rafael Juarez" in 1974 by the first ascensionists in memory of a young climber from Cordoba, Argentina who was loosely linked to their expedition. Rafael disappeared in the Adela glacier, in company of Eduardo Atilio Mundet, also from Argentina. They are presumed to have fallen into a crevasse (22/1/1974).


Early climbing history.
There were no attempts in this tower before it's first ascent. You will find all the historic details under each of the climbs. See link on the right menu in this page.
In early February 1958 as they explored possible climbing routes Italians Cesare Maestri and Luciano Eccher climbed the couloir between Poincenot and Innominata. They christened the col between the two towers "forcella S.U.S.A.T." after the university climbing group they belonged to, the Sezione Universitaria Società de Alpinisti Tridentini (Bolletino della SAT 1958/2 p. 3-8).


Photos (click to enlarge)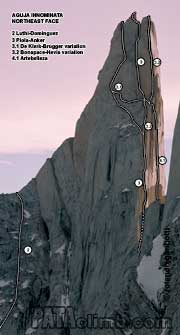 Aguja Innominata - northeast face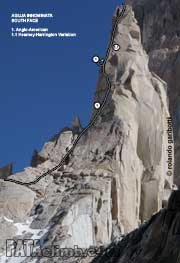 Aguja Innominata - south face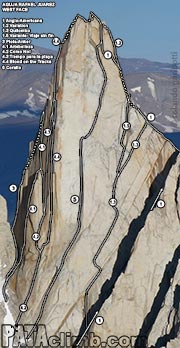 Aguja Innominata - west face