Aguja Mermoz NW ridge - Cerro Fitz Roy Goretta pillar


North Pillar Sit Start link-up

Filo Noroeste on Mermoz to Goretta Pillar link-up
1900m 6c C1
Scott Bennett and Cheyne Lempe (USA), 01/2012.
Description. Climbs the Filo Noroeste of Mermoz to then traverse south along the ridge, along the Care Bear traverse, past two small summits and passing Aguja Val Biois by its west side to reach the col del Bloque Empotrado at the base of the Goretta pillar, which was climbed via the Casarotto with the Kearney-Knight variation to the summit. The first ascensionists climbed a significant variation at the start of Mermoz's Filo Noroeste, climbing over 500 meters of new terrain.
History. This linkup was completed alpine style with three bivies, one half way up Mermoz's Filo Noroeste, another at the base of Aguja Val Biois and one more at the col between the Goretta pillar and upper Fitz Roy headwall.
This was the first continuous ascent of Mermoz's Filo Noroeste, which had been climbed in two sections by Slovenes Zlatko Koren and Vasja Kosuta ten years earlier.
This is one of the longest link-ups in the massif, covering similar vertical gain to climbs like the Travesía Care Bear, the Travesía de las Torres and The Wave Effect.
In 2014 Julian Poush, Kevin Prince and Austin Siadak completed the second ascent climbing an important variation at the start, climbing from the lowest point of Aguja Mermoz's NW ridge. This low start is the recommended start. Poush, Prince and Siadak completed the ascent in the same time as Bennett and Lempe, in four days, bivouacking in the same spots.
Approach. Paso Cuadrado to Glaciar Fitz Roy Norte.
Descent. Francesa.
Photos (click to enlarge)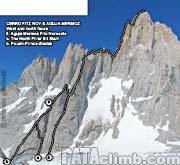 The North Pillar Sit Start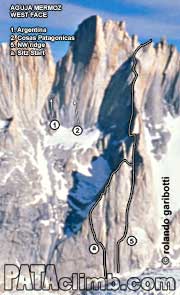 Mermoz northwest ridge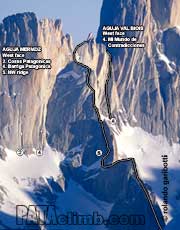 Mermoz northwest ridge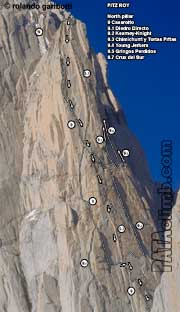 Fitz Roy north pillar

Fitz Roy north pillar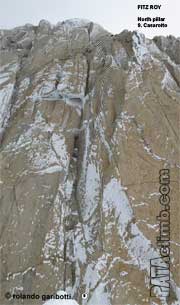 Fitz Roy north pillar, upper part