Cerro Piergiorgio (ca. 2700m).

General description.
It is a flat topped, fin like, granite monolith that lies north of the Cerro Torre group. The mountain was named by Alberto Maria De Agostini, during one of his early explorations of the area in the summer of 1935. In is named after a young man from Torino, Piergiorgio Frassati (1901-1925). This virtuous young man loved passionately the mountains and practiced alpinism as a way to fortify the spirit and raise himself closer to God. He conducted an exemplary life of compassion, mercy and charity and was beatified in 1990.
Renowed Swiss alpinist Michel Piola referred to its west face as "la paroie parfaite" (the perfect wall), which is certainly not an overstatement on his part. Steep, immaculate rock for 800 meters, likely the playground for the future generations.
Climbing history.
In 1963 Argentines Jorge and Pedro Skvarca climbed to the base of the mushroom of what looks to be the highest of the many summits that crown the ridge. In 1985 Italians Mario Mànica and Renzo Vettori climbed to the top of that very summit, for what was likely the first true ascent of the peak. In 1996 Italians Maurizio Giordani and Gian Luca Maspes climbed to the base of a summit mushroom on the far north of the summit ridge, a summit that in photos looks clearly lower than the one reached by Vettori and Manica. No other ascents, except for Mailefer and Banderet's repeat of Greenpeace have come close to reaching the summit.
Photos (click to enlarge)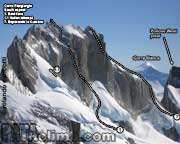 Cerro Piergiorgio - East face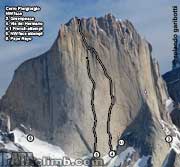 Cerro Piergiorgio - Northwest face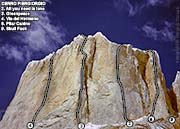 Cerro Piergiorgio - West face