Fitz Roy - North face


31. Persiguiendo el Avión

900m 7b+ (1800m altogether)
Stéphanne Hanssens and Seán Villanueva (BE), 3/2013.
Description.. Climbs a very long line that starts at the very bottom of the north-west pillar. The initial section is easy (5 to 6b+) until it reaches a very steep pillar where the difficulties reach the 7b+/c range. At the end of the pillar it heads left to the Gran Hotel. Here it joins El Flaco con Domingo and eventually the Afanassieff to reach the summit (1800m altogether). The first ascent team climbed every pitch free and all except one onsight.
History. Hanssens and Villanueva started climbing at 7AM and arrived at the Gran Hotel around 10PM. Because they had very limited time before their flight home they kept going, climbing through the night to reach the summit around 2PM on day two. They then descended the Casarotto arriving back to the base at 6AM, less than 48 hours since starting. They slept one hour and headed back to El Chalten to catch a 6PM bus to the airport… The name of the route, chasing the plane, reflects this race against time.
Approach. Paso Cuadrado to Glaciar Fitz Roy Norte.
Descent. The first ascent party descended via the Casarotto.
Photos (click to enlarge)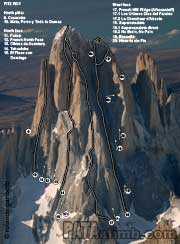 Fitz Roy north and west face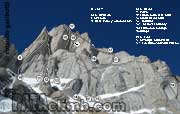 Fitz Roy north and west face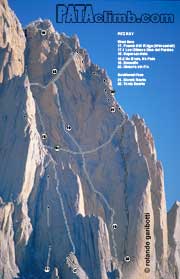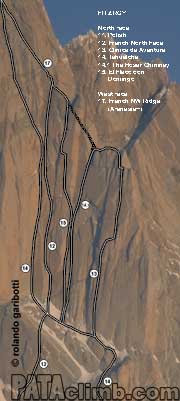 Fitz Roy north face