Fitz Roy - North face


12. Francesa Cara Norte

1000m 40˚ 6b+ A2+
Jerome Arpin, Sylvain Empereur, Yannick Ponson and Lionel Pouzadoux (France), 22/1/2002.
Description. Their line starts just right of the ruta Polaca and reaches the Grand Hotel (a big ledge half way up the face) in about 16 pitches. There it crosses Tehuelche, and climbs a parallel crack system just to the right of it to reach the NW ridge where it joins the Filo Noroeste for the last 200 meters. In total 32 pitches (1250m altogether).
History. They spent a total of six days working on the route, and fixed around 800 meters of rope. It is still unrepeated.
Approach. Paso Cuadrado and Glaciar Fitz Roy Norte.
Descent. All belays are in place so it is possible to rappel the route.
Photos (click to enlarge)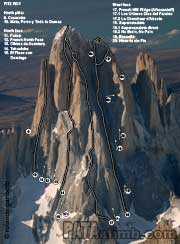 Fitz Roy north and west face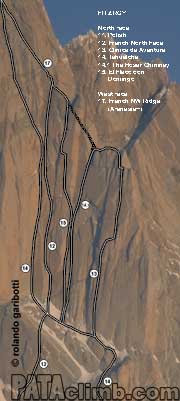 Fitz Roy north face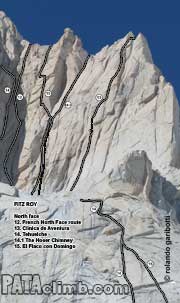 Fitz Roy north face