Fitz Roy - Southwest face


21. Eslovaca

1300m (1000 new) 6c
Robert Gálfy, Michal Orolín and Vladimír Petrík (Slovakia), 15/1/1983.
Description. This route follows an obvious line of weakness that slashes across the southwest face, joining the Californiana four pitches below its junction with the Supercanaleta. It involves mostly moderate climbing with only seven pitches harder that 6a. The technical crux is a distinct three-pitch corner on the lower third of the route. Before this there is a two pitch long band of rotten rock. If started from the Torre glacier this route gives the highest elevation gain of any face in the area (2300 meters).
History. This route was commonly known as the "Czech" route, but since all the members of the team were in fact from Slovakia it is only fair to "change" the name considering that the two republics have parted ways a good while back. After an unsuccessful attempt from the Torre glacier in early 1982, Gálfy, Orolín and Petrík returned the following season to complete the ascent accessing the route from the base of Supercanaleta. Over several weeks they fixed ropes to within four pitches of the junction with the Californiana. Zdenek Brabec, who was also part of the expedition was injured by rock fall and could not take part in the final attempt. The first to attempt this line were Rab Carrington and Al Rouse (UK), who made two alpine style attempts in early 1977 from the Torre glacier, climbing to the top of the crux dihedral. Alpine Style. In late 1999 Rolando Garibotti (Argentina) and Silvo Karo (Slovenia) climbed the route in alpine style from Torre glacier, adding 800 meters of easy mixed terrain to the original line (2300 meters of vertical gain total). They started the route at 5AM and reached the summit at 11AM the next morning after a bivy where the route joins the Supercanaleta. Free ascent. In 2004 Bean Bowers, Ben Bransby and Jvan Tresch made the first free ascent, climbing the route in a day from the top of the Hombre Sentado ridge.
Approach. Starting at Hombre Sentado: Paso Cuadrado to Glaciar Fitz Roy Norte. Starting at Torre valley: via Niponino.
Descent. Francesa.
Bibliography.
Galfy: AAJ 1983 p.210-211; AAJ 1984 p. 68-74; Mountain 95 p. 20-25; Desnivel 15 p.34-41; Alpin #11, Nov 1983, p.32-35.
Rouse: Mountain 58 p. 18-21; AAJ 1978 p.581-583; Climbing 47 p.5-11.
Photos (click to enlarge)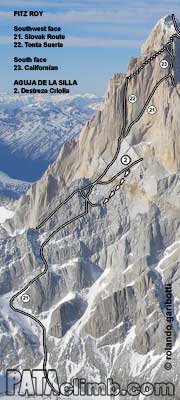 Fitz Roy southwest face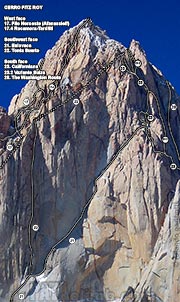 Fitz Roy southwest face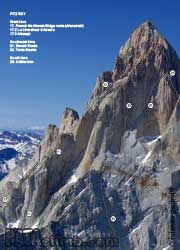 Fitz Roy southwest face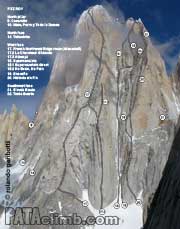 Fitz Roy west face