Aguja Tito Carrasco - West and north face
11. Zigzag


300m 6b C1
Lukas Pflug-Sebastian Straub-Carsten von Birckhahn (DE), 1/2013.
Description. Climbs eight new pitches on the west face and north ridge to then join the Cara Norte route (400m altogether). They placed three bolts in the crux dihedral, which might go free at 7b+ (6b C1 otherwise).
History. The first ascent was done in a day from a camp at the Marconi glacier.
Approach. Glaciar Marconi.
Descent. Via the same route.
Photos (click to enlarge)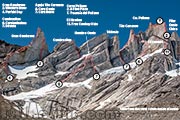 West view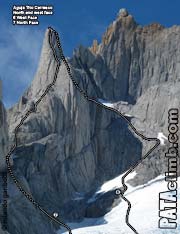 Tito Carrasco - Pollone - N face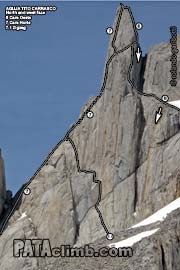 Tito Carrasco - Pollone - W face