Cerro Pollone - West pillar
2. A Fine Piece
550m 6b
Jim Donini and Gregory Crouch (US), 11/1999.
Description. Follow an obvious arching crack on the left side of the west face that after six pitches leads to the NW crest. Cracks left of the crest lead to the top of the pillar. After 16 pitches the route reaches the top of the pillar, not continuing on to the summit.
History. Donini and Crouch climbed the route alpine style, bivying twice at the top of the 7th pitch, while going up and while descending. A Fine Piece is named in response to a route on the nearby Cerro Piergiorgio called Greenpeace, which Donini calls "A very good route, but horrific name. It's so politically correct, gag me with a spoon please".
Swiss Michel Piola and Daniel Anker had attempted this route in 1988. They climbed to within 100 meters of the top of the pillar. They fixed 200 meters of rope over two days and retreated after climbing 13 pitches. They are responsible for all the bolted anchors on the route.
Approach. Glaciar Marconi.
Descent. Via the same route.
Bibliography.
Piola: Mountain magazine 130 p. 20-25; Vertical magazine 32 p. 28-37; AAJ 1990 p. 208.
Donini: Climbing magazine 194 p. 95; Greg Crouch's blog.
Photos (click to enlarge)
Cerro Pollone - West face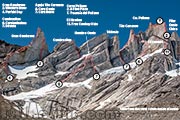 Cerro Pollone - North face