Aguja Tito Carrasco - North face
7. North face
400m 35° 6b
Joel and Neil Kauffman, and Jim Toman (USA), 2/2010.
Description. Climbing a snow couloir to just below the col north of the tower. A flaring crack and a pitch on the east side of the ridge bring you to a series of ledges that give access to the upper headwall, which was climbed via crack systems on its west face.
History. The first ascent was done in a day from a camp at the Marconi glacier.
Approach. Glaciar Marconi.
Descent. Via the same route.
Photos (click to enlarge)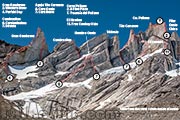 Tito Carrasco - Pollone - N face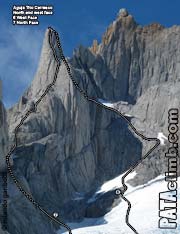 Tito Carrasco - Pollone - N face