Aguja Tito Carrasco - West and north face
12. Terroir


300m 7a C1
Joel Enrico - Adam Ferro (US), 2/2014.
Description. The route starts off with moderate climbing leading up the initial ramp through a short offwidth section. After crossing Zigzag, the obvious dihedral system is the gem of the climb. Three long, steep, and splitter pitches that will likely go free at 7a+. It joins Ippon briefly to then head left to join the Cara Norte route for the last three pitches. The rock is of good quality. In all it climbs 12 pitches of which eight are new (400m altogether).
History. Regarding the name Joel writes: "Terroir is the set of special characteristics that the geography, geology, and climate of an area have that play a role in the outcome of a product. Often expressed in wine, coffee, chocolate, or tea."
Approach. Glaciar Marconi.
Gear. Doubles to #4, some triples, stoppers.
Descent. Via the Cara Norte route.
Photos (click to enlarge)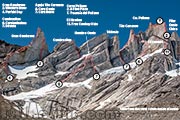 West view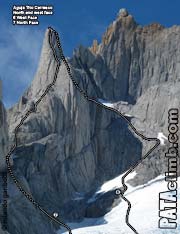 Tito Carrasco - Pollone - N face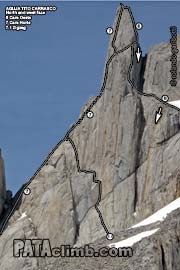 Tito Carrasco - Pollone - W face