Aguja Tito Carrasco - West face
8. Halle Berry

300m 7a C1
Mike Collins and Jonathan Schaffer (US), 2/2014.
Description. Altogether it climbs 8 long pitches, crossing and then joining the Cara Oeste route in the upper half, climbing two short variations around it, the first to the right, the second to the left (close to 400m altogether). The rock is of ok quality. Schaffer estimates that it will go free at 7b+.
Approach. Glaciar Marconi.
Gear. Doubles to #3, triples from 0.5 to 1, double set of stoppers.
Descent. Via the Cara Oeste route.
Photos (click to enlarge)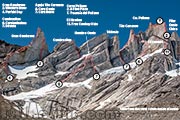 West view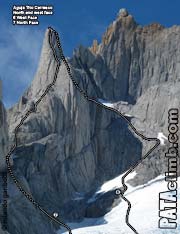 Tito Carrasco - Pollone - N face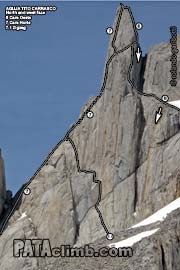 Tito Carrasco - Pollone - W face