Gran Gendarme Del Pollone
3. No Entiendo
Carsten von Birckhahn (DE) and Martin "Tincho" Kroussottsi (AR), 1/2013.
History. They named their route "No Entiendo", a name that remembers Swiss climber Mario Luginbühl. Mario had spent several seasons in El Chaltén, managing the Centro Alpino. He spoke little spanish so often times when spoken to he would answer "no entiendo" (I don't understand). He died in mid September when his rope cut on a fixed quickdraw while sport climbing at Magletsch, Switzerland.
In early 2015 Elias Leckie and Pablo López Larsen climbed a variation to the right, climbing two pitches to 6a+.
Pablo points out that it seems likely that the central and upper part of No Entiendo and the Cara Este route are one and the same. In time we hope to get this clarified.
Photos (click to enlarge)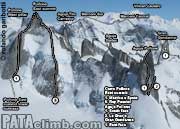 Southeast view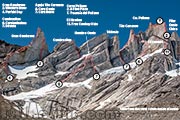 West view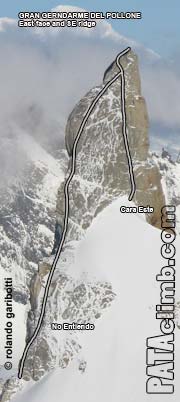 Gran Gendarme - East face