Cerro Pollone - South face
1. South face
400m 4 65˚
Rodolfo Dangl, Roberto Matzi, Agustine "Guzzi" Lantschner and Hans Zechner (Argentina), 11/2/1949.
Description. The first ascent party climbed the south face approaching from the Torre valley.
History. The first ascensionists had originally intended to attempt Fitz Roy which Zechner had attempted the previous year with Mario Bertone and Nestor Gianolini, but the first impression of the three new team members clearly marked the expedition, "...fantastic, but much more difficult than we had imagined...". They made two attempts on Fitz Roy from the Torre valley, climbing both times to the top of the Filo del Hombre Sentado. On the third they traversed west to climb Pollone, getting a good glimpse of what would later become the Supercanaleta. The French writer Saint Loup, a pseudonym apparently used to cover a not so honorable past during World War 2, wrote of Zechner, "...il est venu par amour, et revenu avec persévérance, persuadé que cette escalade justifiait les plus grandes sacrifices". Like many of the pioneers of early Argentine mountaineering, Lantschner and Zechner were of European origin, having learned the art of climbing in the Alps.
Approach. Paso Cuadrado and Glaciar Fitz Roy Norte or Niponino and Boquete del Piergiorgio..
Descent. Via the same route.
Bibliography. Anuario CAB 1950 p.14-26; Saint Loup (1951) Monts Pacifique, Arthaud, Paris (p. 51-55).
Photos (click to enlarge)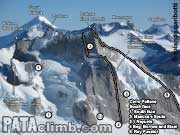 Cerro Pollone - South face