Aguja Tito Carrasco – West face
6. Cara Oeste
400m 40º 6b
Jim Donini and Gregory Crouch (USA), 11/1999.
Description. The summit is spectacularly narrow.
History. Donini and Crouch completed the first ascent in a day from their camp near the Marconi glacier. They named it after Bolivian climber Tito Carrasco who died after being hit by rockfall while climbing in El Potrero Chico, Mexico. He was a close friend of Donini's wife, Angela.

Approach. Glaciar Marconi.
Descent. Via the same route.
Bibliography. Climbing magazine 194 p. 95.
Photos (click to enlarge)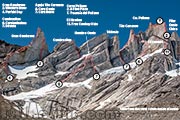 West view
Tito Carrasco - Pollone - W face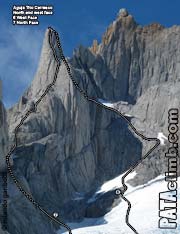 Tito Carrasco - Pollone - N face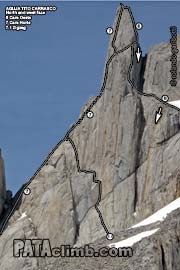 Tito Carrasco - Pollone - W face