Cerro Pollone - East summit - Lower South buttress
4. Beg, Borrow, or Steal

350m 6b+

Mikey Schaefer and Blair Williams (USA), January 2002.

Description. The route offers very varied climbing, everything from thin cracks to slabs to lay backs, as well as a couple of off-widths. The first ascent party climbed a total of nine 60 meters pitches and retreated upon reaching the snowfield at the top of the buttress, where their line joins Mastica Sputa.
History. No bolts or pitons were placed, although one bolt from a previous attempt (see below) was used. The route name refers to a number of incidents that occurred before their climb.
In December 2001 Swiss Lorenzo Lanfranchi and Italian Giovanni Ongaro attempted a line just right of Beg, Borrow and Steal. They climbed four pitches before retreating.
Approach. Paso Cuadrado and Glaciar Fitz Roy Norte.
Descent. 8 rappels down the line of ascent.
Photos (click to enlarge)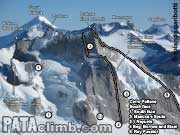 Cerro Pollone - South face