Aguja Tito Carrasco - West face
9. Atari

300m 7a+
Katsutaka Jokoyama, Ryo Masumoto and Yusuke Sato (JP), 2/2014.
Description. It climbs 7 new pitches to join the Cara Norte route along which it continues to the summit (400m or 10 pitches altogether). The rock is of superbe quality, climbing splitter cracks.
Two approach pitches (6a+, 6a, wet) lead to a very steep wall which is climbed in four pitches (7a+, 7a, 6b and 7a). This is followed by tricky 6b+ face climbing (50m) to reach the shoulder of Tito Carrasco where the route joins the Cara Norte route.
History. The first ascent was done in a day from a camp at the Marconi glacier. They retreated upon joining the Cara Norte route because the wall above was very icy and rimed. The name of the route means "bingo!" (to hit the jackpot / checkmate / to hit a target) in Japanese and refers to the fact that after waiting for good weather for two months the first ascensionists gambled by extending their stay in hopes for one last chance, a gamble that paid off as it allowed them to climb this route and one more new route on Tito Carrasco.
Approach. Glaciar Marconi.
Gear. Doubles to #2, one each to 5.
Descent. Via the same route.
Photos (click to enlarge)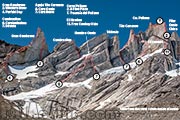 View from the west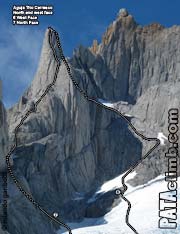 Tito Carrasco - Co. Pollone west and

north aspect.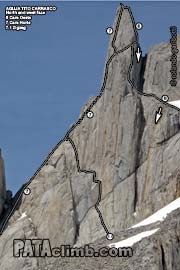 Tito Carrasco - Pollone - West face