Aguja Guillaumet - East face


13. Fowler couloir


250m 80º 5
Charlie Fowler (USA), 2/1/1999.
Description. Climbs a depression to the right of the Pippo Frasson route, following a deep chimney/goullotte, that involves mixed and ice climbing. Charlie self-belayed four of the six mixed pitches. With fat ice conditions t is a direct and interesting route to the summit .
Approach. Piedra Negra to Paso Guillaumet.
Descent. Amy-Vidailhet.
Bibliography. AAJ 1999 p. 74-79, p.338; High 203 p. 85.
Photos (click to enlarge)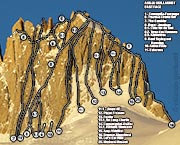 Guillaumet east face