Aguja Guillaumet - East face


28. ¡Aupa 40!


300m (400m) M7 85˚ 5+
Eneko & Iker Pou (Euskadi), 2/2017.
Description. It was opened in a day and climbing free (mixed). Not a single piece of gear was left in place. The name is in reference to Iker's 40th birthday, which was the day of the ascent. For a repeat take a set of Camalots, a set of Stoppers, two ice-screws and a couple of pitons.
Approach. Rio Blanco to Paso Superior to Glaciar Piedras Blancas, or via Piedra del Fraile to Piedra Negra to Paso Guillaumet.
Descent. Descend via the Amy-Vidailhet couloir.
Photos (click to enlarge)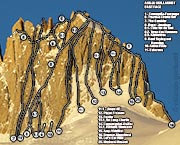 Guillaumet east face