Cerro Domo Blanco - East face and south ridge
3. Filo Sur
1000m 65˚ 5+
Tommy Bonapace, Toni Ponholzer and Gerold Dünser (Autria), 6/6/1993.
Description. Climb a steep couloir (55˚) to the col between Domo Blanco and Aguja CAT. From the col climb ice (65˚) to three rock pitches very poor quality rock, to reach easy snow slopes leading to the summit. The seracs on the upper portion of the route are in fact a very "stable" mixture of seracs and snow mushrooms, but the approach couloir to the Domo-CAT col is exposed to an obvious serac.
Approach. Niponino.
Descent. The first ascensionists descended via the same route, making several rappels from ice-screws and a couple of tricky rappels in the rock section where, because of the poor quality rock they had some difficulty establishing adequate anchors. The lower couloir was descended by rappeling from rock anchors on Aguja CAT's flank.
Bibliography. Gipfelsturmer 1996 p. 21; AAJ 1994 p. 181, p. 184.
Photos (click to enlarge)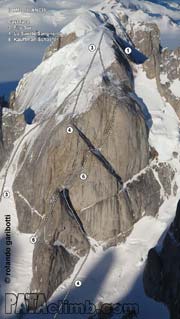 Cerro Domo Blanco - east face