Domo Blanco – East face
6. Super Domo
500m WI 5 M5/6
Joel and Neil Kauffman, Mikey Schaefer (US) January 2014.
Description. This superb route follows a long diagonal break that crosses the east face. It is divided in three distinct tiers, each of them between three and four pitches long. The first tier involves easy ice climbing and depedning on the conditions some mixed climbing. The second tier involves the crux pitch: mixed terrain traversing out of the main corner and back in, avoiding the steep ground in the corner itself. Although this pitch is not terribly difficult there are sections with sparse protection. The third tier is the gem of the route and in three pitches climbs a long ice filled chimney (WI 4, WI 4 and WI 4+/5) of what appears to be very old ice, likely formed and in condition all the time. Although that last tier is likely in condition all the time the first two tiers which climb far more ephemeral ice, likely are not.
It is a phenomenal ice and mixed line, quite a lot easier than Exocet but equally good in quality. It is protected from the wind and hence a very good candidate for questionable good weather windows. It is a line that deserves to become an instant classic. In fact soon after the first ascent it received five ascents in a single day.
The route can be easily climbed in a day from Niponino with an early start.
History. The name refers to an icecream flavor in a local "heladeria" and plays on the name Supercanaleta.
Approach. Depending on the snow conditions two or three hours from Niponino. Note that if you approach from below you will be exposed to a massive serac that is no the north of the face. The safest approach is to hug the base of Cuatro Dedos to then traverse across, slower and more complicated because of crevasses.
Gear. Set and a half of Camalots, stoppers, 10 icescrews.
Descent. The easiest way to descend is directly down the route, making Avalkovs in the upper tier and using rock anchors in the lower two tiers. However, if there are many people behind you on the route it is best to rappel as the first ascensionists did, scrambling south from the top of the route to rappel onto a low angle snowfield and heading down it until you are above an obvious ramp, near the top of La Suerte Sangrienta. Two rappels down this ramp take you to the top of the secon tier. The middle tier is descended in two raps and some downclimbing. The lower tier requires three raps.
Photos (click to enlarge)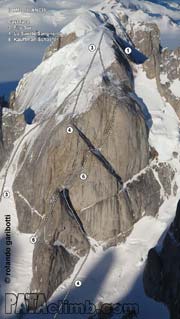 Cerro Domo Blanco - east face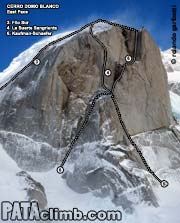 Cerro Domo Blanco - east face