Aguja de l'S - South face


9. The Wormhole Theory


400m 7a
Josh McClure, Miranda Oakley and John Rambo (USA), 01/2012.
Description. Climb the initial 500-meter "approach" of Thaws not Houlding Wright involving moderate rock climbing up easy slabs somewhat reminiscent of the Royal Arches in Yosemite. At the upper headwall traverse right, along The Art of War to an obvious crack system up and right once past the red rock. Climb seven long pitches up the steep headwall. From the top of the headwall traverse north on easy ground, then up one more long pitch to reach the summit. Just as for the Gentlemen's Club, the first ascentionists described the upper part as being reminiscent of Astroman, with very high quality rock. Royal Arches on steroids to Astroman it is. 900m altogether.
History. The route was climbed with one bivy at the base of the upper headwall.
Approach. Before Niponino.
Descent. Down the via Austriaca along the north ridge.
Photos (click to enlarge)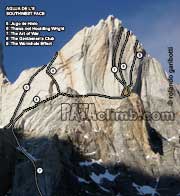 Aguja De l'S southwest face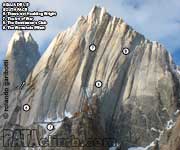 Aguja De l'S south face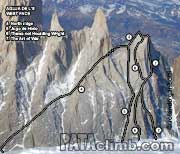 Aguja De l'S west face