Aguja de l'S - East face


3.1. Haizea


250m 7a C1

Iker & Eneko Pou, 2/2019.

Starting via Baby Face, it climbs seven new pitches to the right of "La Femme de Ma Vie', with which it shares the finish (350m altogether). The first ascensionists estimate it will go free around 7b/+, but they did not redpoint the route. The first ascent was done in 12hs.
Haizea means wind in Basque language.

Approach. Laguna Sucia

Gear. Doubles to #3, Stoppers.

Descent. Rappel the Austriaca.


Photos (click to enlarge)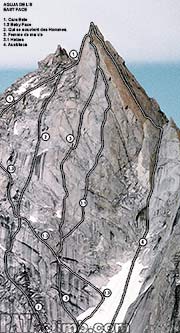 Aguja De l'S east face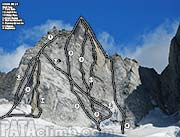 Aguja De l'S east face