Aguja de l'S - East face


3. La Femme de ma Vie


400m 7a A1

Lionel Daudet (France), solo, 9/1/1995.

Description. This route climbs a line in the center of the east face. Good face climbing. Seven bolts in place.

History. The first ascent was done with fixed ropes over 4 days. It has yet to be repeated. Daudet named and dedicated this route to his wife, who supported and accompanied him in the year-long climbing trip around the world of which this climb was part off.

Approach. Laguna Sucia.

Descent. Via the same route.

Bibliography. High Magazine 152 p. 16; Annales GHM 1994-95 p. 13; AAJ 1995 p. 216, p. 219; Annales GHM 1995/96 p. 66; La Montagne et le Alpinisme magazine 1995/2 p. 63; Vertical magazine 78 p. 49.
Photos (click to enlarge)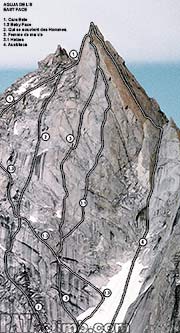 Aguja De l'S east face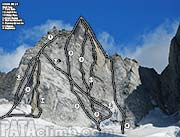 Aguja De l'S east face