News and major updates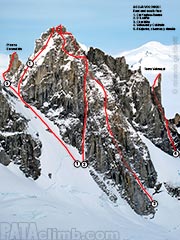 11/12/2013Aguja Volonqui - first complete asc.
Colin Haley (US) and Sarah Hart (CA) completed an ascent of the peak via a new route immediately left of the east ridge. They climbed an enjoyable ice and mixed line with some steep snow, some moderate mixed climbing, one pitch of steep ice, a bunch of mellow ice, and one pitch of tricky thin ice. HERE.
6/12/2012NOGAPS is dead - it died last February.

NOGAPS, one of the three weather forecasting models that we used to predict the weather in Patagonia died last February, but we were a bit slow getting the news. NOGAPS has been replaced by NAVGEM, The Naval Global Environmental Model, a model that is being described as a major improvement. It is run by the same people that brought NOGAPS, by the US's Naval Research Laboratory in Monterey, CA.
Although the NAVGEM model is a major improvement over NOGAPS it is still not considered to be the best. That honor goes to IFS, the Integrated Forecast System from the European Centre for Medium-Range Weather Forecasts.  Unfortunately only very little IFS info is available for free, so NAVGEM is the only available comparison to GFS. It is curious that Europe seems to be socialist on everything but its weather forecasting, while the US is capitalist on everything but its weather forecasting (GFS and NAVGEM, both US government products offer all their info for free to all).
The NAVGEM maps can be accessed here.
The little info that is available for free from the IFS model can be accessed here.
The trusted GFS can be accessed here as a meteogram and here as maps.
Read here or in page 32 of Patagonia Vertical for a more detailed discussion on the subject.
6/12/2012Patagonia Vertical - Updates and corrections - 2012/13.

We have put together a pdf document with updates and corrections to the English language version published in 11/2012. We suggest you print these pages to have them as an appendix to the guidebook.
05/12/20132013-2014 Season
New routes, variations and significant ascents.
Torre Egger
- West face attempt, impressive effort.
Cerro Rincón
- Ruleta Trentina, a very dangerous new route.
Cordón Marconi - Aguja Dumbo
- Vstala Primorska, new route and first ascent of the peak.
15/11/2012Patagonia Vertical - en castellano.

Finalmente hemos publicado una versión en castellano de Patagonia Vertical. Requirió mas tiempo y esfuerzo de lo esperado, pero quedo hermosa. Gracias a la experiencia del año pasado hemos podido mejorar significativamente la calidad de impresión en Argentina y esta versión es idéntica en calidad a la versión Europea. Gracias a la gente de Gráfica Pinter y a Juan Laguna de la Revista Kooch por el esfurzo. En los próximos días estará disponible en los mismos comercios que tuvieron la versión en inglés hasta ahora: en la Capital, Mendoza, Bariloche, Chaltén y Cordoba. También estará disponible a través de esta misma pagina para compras online, con envío gratis a todo Argentina y a países limítrofes.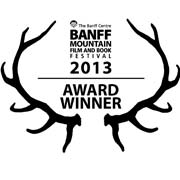 Banff Mountain Book Competition
Guidebook Award!
A few weeks ago we noted that we had made it into the guidebook category finalists list at the 2013 Banff Mountain Book Competition. Now we are pleased to announce that the jury has given Patagonia Vertical the Guidebook Award! We are incredibly honored and stoked. More info here.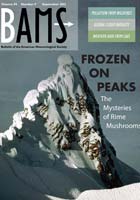 06/10/2013The Mysteries of Rime Mushrooms
Dave Whiteman, Research Professor at the University of Utah and Rolando Garibotti published an article about the mysteries of rime mushrooms in the September issue of the Bulletin of the American Meteorological Society, a peer review journal. Many climbers provided photos and information for this article, see the acknowledgements section of the article. The article can be read HERE.
22/03/20132012-2013 Season Overview
New routes, variations and significant ascents.
El Mocho
- Dulce de Leche, new route
Cerro Torre
- The Via dei Ragni finally gets its place as the normal route up Torre.
- Directa Huarpe, an impressive new line
- "Fair Means" Corkscrew
Torre Egger
- Notti Magiche, new route
Aguja Bifida
- A direct start to the Lüthi-Bresba, the Gunnison Direct.
Agujas CAT, Cuatro Dedos, Atchachila and Pachamama
- Travesía Manos y Mas Manos, seven summits in a row...
Aguja Tito Carrasco
- Zigzag, variation.
Gran Gendarme del Pollone
- No Entiendo, new route
- The Perfekt Day, new route
Aguja Pollone and Cumbre Este
- Sit-Start & Traverse
- La Granja, variation

Aguja Guillaument
- Dirigo, new route
- The Gambler variation, Tierra de Traucas
Aguja Mermoz
- Hypermermoz, two new variations
- Vol de Nuit to the summit
Cerro Fitz Roy
- Un Mar de Sueños, the new route of the season in this massif.
- El Corazon, second ascent.
- The Real Kekec, new route on Pilar Goretta
- Mate, Porro y Todo los Demás, the girls pull down!
- Guasos on the Rock, a long variation on Pilar Goretta
- Samba do Leao, new route
- Persiguiendo el Avion, new route
- Afanassieff, previously unreported variations and more girls pulling down.
Aguja de la Silla
- Carril Rapido, new route
Aguja Kakito "group"
- Punta Kavarovsk
Aguja Poincenot
- Judgement Day, free ascent
Aguja Rafael Juárez
- Los Sanjuaniños, variation
Aguja de l'S
- Carne y Papas, new route
- Besos to Pesos, new route
Mojón Rojo
- El Zorro, major new route


30/01/2012Patagonia Tragica.
There were a number of serious accidents in the last good weather window. Carlyle Norman lost her life on Exupery, while several people had rockfall related accidents on Innominata and Noruegos. The fact that this has been one of the driest seasons in history has not helped, but some of the accidents should make us pause and rethink our approach and our respect for these peaks. In an area where wall rescues are not available climbing in parties of three to ensure better chances of self rescue should be strongly considered. Let Bernardo and Carlyle's tragic deaths, dying alone while waiting for a rescue that never comes, be a reminder of just how very serious this area is.
© 2012 Rolando Garibotti - Dörte Pietron. All rights
reserved.
PATAGONIA VERTICAL -
Chaltén Massif
A complete printed
guidebook to the Chaltén
Massif. Winner of the Guidebook Award at the Banff Film and Book Festival. Read more
Una guía completa para
las montañas del Macizo
de El Chaltén. Ganador del Premio a la Mejor Guia de Montaña en el Festival de Cine y Libros de Banff, Canada.
Mas información
Updates & Corrections
10/12/2013
- Chalten weather.
- Resources.
10/12/2013
- Beger-Jennings Aguja Guillaumet. Colin Haley solos the link up with Courrier du Sud and Terre des Hommes in a little over 2 hs. Earlier in the year a bogus new route claim, full of fanfare and then backpedaling.
Earlier in the year we added these four peaks:
- Cerro Buracchio
- Cerro Murallón
- Mariano Moreno
- Riso Patrón.
06/10/2013
- Cara Oeste Aguja Tito Carrasco.
- Cara Norte Aguja Tito Carrasco.

23/02/2013
- Care Bear, Fitz Roy Traverse, how it got its name.
01/04/2012
- Exocet, Standhardt.
- Mot. Mixtas, Standhardt.
- Potter-Davis, Standhardt.
- W face attempts, Egger.
31/03/2012
- El Bastardo, Silla.
- North face, Carrasco.
- West face, Carrasco.
- Hist. Interminable, Poince.
- Judgement Day, Poince.
- Southern Cross, Poince.
- Pepe Rayo, Piergiorgio.
- Wormhole Theory, De l'S.
- NW face, Torre.
- Ragni route, Torre.
30/03/2012
- Austrian route, Exupery.
- Austrian route, De L'S.
- N Face, Innominata.
- Piola, Innominata.
- Old Sumugglers, Poince.
- Puerta Blanca, Desmo.
- Bonapace attmpt, Silla.
- Royal Flush, Fitz.
- Crux del Sur, Goretta, Fitz.
- Chimichurri, Goretta, Fitz.
- Lindblade-Whimp, Goretta,