Aguja Val Biois - West face


5. Don Lito Sacalo Prendido

250m 6b C2
Agustin Piccolo - Emiliano Arcienaga - Diego Simari (AR), 1/2018.
Description. Climbs an obvious crack system on the west face of Val Biois. Starts and finishes via Mi Mundo de Contradicciones (300m altogether).
History. The first asencionists retreated from the ridge, without continuing to the summit of Val Biois.
Approach. Paso Cuadrado to Glaciar Fitz Roy Norte.
Descent. Down to the Bloque Empotrado, and from there down the couloir, back to the base.
Photos (click to enlarge)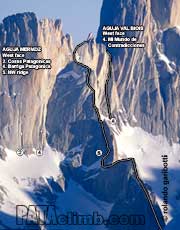 Aguja Mermoz and Val Biois west

face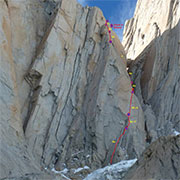 Aguja Val Biois west face