Update: last updated on 24/10/2015.
Cerro Buracchio & Cordón Riso Patrón.

Introduction.
Cerro Buracchio [S49°31.614' W73°36.999'] and the Cordón Riso Patrón are located in the west side of the Ice Cap, southwest of Cordón Mariano Moreno, in a fairly remote location. Note that the Cordón Riso Patrón is separate and to the northeast of Cerro Riso Patrón. This chain does not hold a whole lot of climbing potential, it is mentioned here for the sake of keeping a historical record. Cerro Buracchio is just to the north of the Cordón Riso Patrón. It's south face is around 700 meters tall.
Buracchio was originally christened "Cerro Vanguardia" by a Japanese expedition of the Rokko Gakuin Alpine Club led by Hidetaro Sakagami that in 1969 did a big traverse of the Ice Cap, from Fiordo Exmouth to Estancia Cristina. Unfortunately the maps of this expedition were not translated and hence the name was lost until recently. The original name in Japanese was "Zen'ei-hou", Zen means front, ei means defence and hou means peak, so translated it would be "Vanguard Peak": Cerro Vanguardia, a name that referred to the fact that the peak stands alone, in front of Cordón Riso Patron.
For a few decades Cerro Buracchio was listed in various chilean maps as Cerro 3018 (being that its estimated altitude), but in 2002 María Paz Ibarra and Camilo Rada (CL), who narrowly missed the first ascent, proposed the name Cerro Buracchio. This name honors Christián Buracchio, a very active chilean alpinist who died in a plane crash in 2001 and had been a member of the chilean expedition that in 1992 made an ascent of Everest's Kangshung Face. The first ascent was done by Germans Robert Koschitzki, Paul Sass and Uwe Seifert in August of 2014 (winter). Although it's height was originally estimated at 3018 meters, during the first ascent a GPS reading gave 2767 meters.
Getting to the area is surely a big part of the challenge. The Japanese expedition reached the area from Fiordo Exmouth, climbing up to the Ice Cap and crossing Altiplano Caupolicán, the glacial plateau west of the Cordón Mariano Moreno. Ibarra and Rada reached the base twice from the east, via Paso Marconi, crossing Paso Rokko and Passo Bracchio, covering well over 70 km across the Ice Cap, but in their thrid attempt they followed the footsteps of the Japanese team. Koschitzki, Sass, Seifert and Franz Goerlich, the forth member of the first ascent team, reached the area from Paso del Viento, also via Paso Rokko and Paso Buracchio.
María Paz Ibarra and Camilo Rada (CL) made three trips to try to climb Cerro Buracchio. The first in February of 2002 with Matías Aurtenechea and Juan Antonio Villarroel (CL), approaching via Paso Marconi and making two attempts, both via the SW face, both trashed by bad weather.
In the winter of 2002, Ibarra and Rada were back, this time with Viviana Callahan, Fiorenza Marinkovic and Sebastián Varela (CL), also approaching via Paso Marconi. Over two and a half days Ibarra and Rada attempted a line in the SW face, climbing 600 meters of ice and rime (to 90˚), reaching a point right below the summit mushroom. There Rada took a long fall when his ice-axes gave way in the inconsistent rime. After the fall and because of the cold (the thermometer inside Rada's jacket showed -11 C) and an impending storm, they decided to retreat.
In February of 2003 Callahan, Ibarra, Rada and Villarroel were back again, this time with María Fajardo, Olivers Flores, Eugenio Guzmán, Verónica Ibáñez and Juan Pablo Meza (CL). They fixed 200 meters of rope but bad weather prevented a subsequent attempt.
The first ascent was done by Robert Koschitzki, Paul Sass and Uwe Seifert in August of 2014, in winter. Franz Goerlich was also part of the team but did not take part in the ascent. They climbed the southwest face, a line paralell and immediately to the right of Ibarra and Rada's attempt. It required 12 pitches with a difficult bergschrund crossing and ice to 80˚. They christened the route "Ruido Blanco" (650m TD). Having fixed a rope over the bergschrund the previous evening, they started climbing at 8:30AM and summitted at 6:30PM, returning to the base at 2:30AM. A photo gallery of their expedition can be found here.
Cordón Riso Patrón had only been visited by the 1969 Japanese expedition, which was composed by I. Ikawa, Shuji Iwata, M. Maekawa, K. Matsunaga and Hidetaro Sakagami. They numbered the summits of the eastern side of the chain, in ascending order starting from east to west (P1-6) and did the first ascent of P6 (K. Matsunaga - H. Maekawa, 16.02.1969). In 2014 Franz Goerlich, Robert Koschitzki and Uwe Seifert did the second ascent of P6 and also climbed P4 and P5 (route E and F in the map in the sidebar). The former proved to be the most prominent summit of the entire Cordón Riso Patron, with an elevation of 2746m [S49°32.417' W73°34.374' ].
Cordón Riso Patrón also extends to the west, where it has several more summits. On one outing during their 2014 expedition, Goerlich, Koschitzki and Paul Sass climbed a tooth like piramid that required two pitches of steep rime climbing to reach the summit (marked in the panoramic photo as 2314m, route C in the map). On another outing Koschitzki and Sass climbed three other summits: 2574m, 2607m and 2660m, route D in the map, descending from the col between the last summit and P6. Earlier the team had climbed two small bumps further west: 2112m and 2188m, route B in the map.

Where to find more information.

Buy a copy of Silvia Metzeltin and Gino Buscaini's book: Patagonia: Terra Magica per Alpinisti e Viaggiatori (Dall'Oglio, Milano, 1987). The Italian version can be purchased through Amazon. It is an excellent book, well worth every penny. The Spanish version published by Ediciones Desnivel is of much lesser quality than the original and has many translation mistakes.
You can read the 2003 AAJ report that Carlos Comesaña wrote about Ibarra and Rada's three expeditions here (in english, pdf format), or a more detailed report in spanish detailing each and every expedition and with excellent photos, here. In 2010 the Sunday magazine of one of Chile's main newspapers run a great article about these three expeditions, with some very good photos. You can see it here, in Spanish, in pdf format. You can read Robert Koschitzki AAJ report here.
Special thanks to Robert Koschitzki and Camilo Rada for the additional information and corrections.

Please Do Not Reprint This Article.
This article is copyrighted. Please do not reprint this article in whole or part, in any form, without obtaining written permission.
Photos (click to enlarge)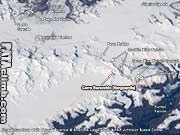 Cerro Buracchio - location overview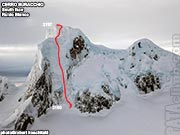 Cerro Buracchio from the south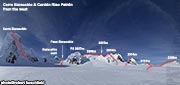 Cerro Buracchio & Cordón Riso Patrón

from the west.

Cordón Riso Patrón from the NE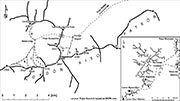 Map detailing the area and Robert

Koschitski et al. expedition.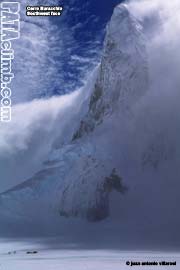 Cerro Buracchio from the southwest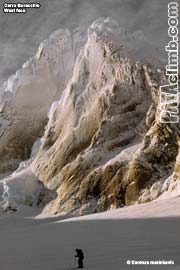 Cerro Buracchio from the west