Cerro Torre – East face; Torre Egger - South Face
1. Americana
950m 80˚ 5+ A4
Jim Donini, John Bragg and Jay Wilson (USA), 22.2.1976.
Description. Starts up an obvious dihedral on Cerro Torre's East face (250m 6b A1 AI4) to then cross a triangular snowfield (80m 50º), right, then down to a buttress on the right –right of the obvious runnel-, which is reach via a short rap. This spur involves difficult climbing (200m A2 6) to reach mixed terrain above (100m AI3), in the vicinity of the east diedre. A short lower around the corner to the right leads to a ramp and the Egger-Torre col (100m AI 3 M4). A traverse to the right leads to the crux pitch, a steep overlap that the first ascentionists surpassed by lassoing a flake above (A4). More hard climbing leads to a wide ice-runnel that leads to the bottom of the summit mushroom, which is surpassed by climbing up and left. The first ascent was done using some fixed ropes and a fixed camp in the vicinity of the east diedre. In the 37 pitches only eleven bolts were placed in the route, all but one for anchors.
There are many possible variations, most of them easier, above the triangular snowfield, for more details see El Arca, on CT.
History. Theirs was the first ascent of what many consider Patagonia's most difficult peak. They spent close to two months working on the route before succeeding. They were part of a larger expedition that included Maureen Donahue, Julie Hunter, Jane and Sherman Wilson as support team. The final push involved a five-day push from a Whillans Box placed half way up the route.
The main secret to their succes was the $ 1 a liter "Old Smugglers" Argentine whisky.
The climbers reported that their observations had left them unconvinced about the veracity of the Maestri's 1959 Cerro Torre claim. For more info see the article "A Mountain Unveiled" in the "Knowledge" section of this website.
Surprisingly some Italian climbers did not consider this a proper ascent of Torre Egger, since the American team had climbed 70% of their route up the East Face of Cerro Torre, having supposedly repeated Maestri's line to the Egger-Torre col. The Italian press went as far as declaring that Bruno De Donà and Giuliano Giongo ascent in 1980 was the first. Not only that judgment is way off base, but now that there are serious doubts about the veracity of De Dona and Giongo's ascent, it is even more preposterous.
Approach. Niponino to Noruegos to Glaciar Torre Superior.
Descent. Via the same route, or initially following a straighter line to the Egger-Torre col, via the Torres Traverse rap line, which drops straight into the col via 6 long raps.
Bibliography. AAJ 1976 p. 507; AAJ 1977 p. 49-56; Mountain magazine 51 p. 19-27; National Geographic 1976/12 p. 812-823; R+I magazine 78 p. 34-36.
Photos (click to enlarge)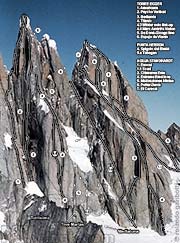 Torre Egger and Aguja Standhardt

south face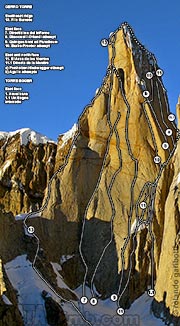 Cerro Torre and Torre Egger east face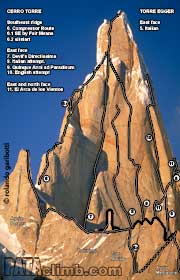 Cerro Torre and Torre Egger

southeast face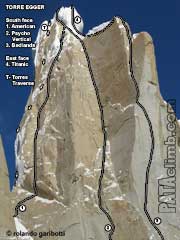 Torre Egger south face