Torre Egger – South face
8. Venas Azules
350m 95˚ C1
Bjørn-Eivind Årtun and Ole Lied (Norway), 12/2011.
Description. Climbs the American route with the Arca de los Vientos variations to reach the Egger-Torre col. From here it climbs one of the craziest and most impressive ice formations in the area, climbing steep ice on the side, and on, two very long mushrooms on the west side of Egger's south face. The climbing involves much steep ice with sections over 90º that can be best described as the "Ragni route on steroids". From the col it climbs seven new pitches to the top of Egger (M5, 90º, 90º and A1, 90º, 95º, 90º, 90º). Difficulties might vary greatly depending on conditions, on how much frost there is or there is not, etc. 950m altogether.
In sport climbing Chris Sharma has used the term "King Line" to describe beautiful lines that stand out because of their unique appeal. This is most definitely the alpine ice version of a Sharma "King Line". A very proud and unique line for sure.
History. The route was climbed alpine style over two days. Bjorn-Eivind and Ole took one day to reach the Egger-Torre col where they bivied, climbing to the summit and back down on their second day.
Approach. Niponino to Noruegos to Glaciar Torre Superior.
Descent. Down Egger south face following the rap line set by the Torre Traverse. From the col climb up one pitch and descend the way you climbed up.
Photos (click to enlarge)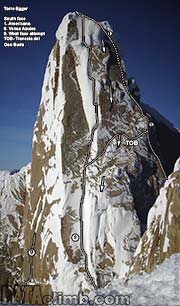 Torre Egger south face