Aguja Saint-Exupery - East face


2. Ural Path


300m 5+ A2 65°
Victor Igolkin, Alexander Ivanov, Mingalim Sibaev, Sergey Soldatov, Yury Stroganov, Anatoly Volodko and Rinate Zaitov (Russia), 26-28/12/1996.
Description. Climbs a line on the right side of the east face, up a couloir to the ridge between Innominata and Saint Exupéry, traversing south to then climb the ruta Italiana to the summit (500m altogether).
History. They completed the route over two days climbing alpine style.
Approach. Laguna Sucia.
Pro. Nothing special.
Descent. Via the Italiana.
Bibliography. AAJ 1997 p. 255; Risk online.

Photos (click to enlarge)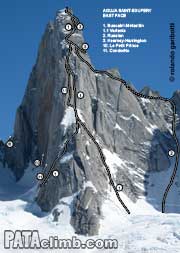 Saint-Exupery east face