Aguja Saint-Exupery - East face


1. Italiana

1.1 Kozulj-Magaldi

700m 7a (6a+ C1) 60˚
Gino Buscaini, Silvia Metzelin, Lino Candot, Walter Romano and Silvano Sinigoi (Italy), 23/2/1968.
Description. Follows the east ridge, climbing the obvious dihedral in the center of the east face. Several variations are possible on the lower and upper part of the route. To avoid a thin 30 meters aid pitch on the upper third, traverse towards the NE ridge, to a crack (6a).
History. After fixing ropes on the lower 250 meters, the first ascentionists climbed the route in four days round trip. They used 350 pitons, two bolts and some wedges. Theirs was one of the only successful ascents that season, when a large French team was forced to give up on Fitz Roy's east pillar and the Anglo-Argentine expedition failed on Cerro Torre's SE ridge. In 1998 Germans Kurt Albert, Bernd Arnold and Egbert Dozekal added a number of bolts in the upper portion of the route when they completed the first ascent of Condorito. First free ascent. Mike Schwitter (Switzerland) and Makoto Ishibe (Brazil) in 1993.
Approach. Laguna Sucia.
Descent. Via the same route.

Bibliography. AAJ 1969 p. 448; CAI-Rivista Mensile 1968/6 p. 294-299; La Montagne et Alpinisme 69 p. 336; Alpinisti Italiani nell Mondo, Commissione Centrale delle Pubblicazioni, Club Alpino Italiano, 1972/2 p.848-852; Alpinismus 1969/2 p. 29-38; Metzeltin S. (1984) Alpinismo a tempo pieno, Dall'Oglio, Milano (p. 162-168).

Photos (click to enlarge)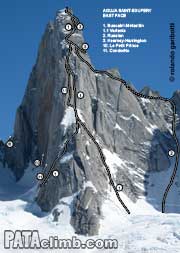 Saint-Exupery east face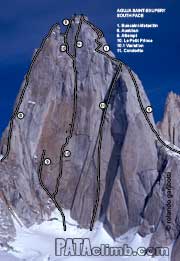 Saint-Exupery south face

1.1 Kozulj - Magaldi Variation

In 1997, Argentines Jorge Kozulj and Diego Magaldi climbed a crack system to the left of main dihedral of the ruta Italiana, just above the first snowfield, (200m 6b).

Other variations. In 2001 Topher Donahue and Jared Ogden (USA) climbed a mixed start on the south side to reach the obvious snowfield (200 meters, M6).